Well done to everyone who spread awareness through the Blogosphere about SOPA/PIPA. I personally think that the protest on the 18th went exceptionally well. The media knows we're not going to take this nonsense and so many people are now educated about this.
But it appears our efforts may have been in vain, or rather, we just delayed the inevitable.
Love, Censorship.
For those you unaware, MegaUpload was taken down by the US yesterday. Many suspect it's a response to the SOPA/PIPA protests the day earlier. MegaUpload is one of the largest (if not the largest) file sharing sites available. Many legitimate accounts and individuals use it on an daily basis where large file transfers are not viable by other methods. Associated sites such as MegaVideo, one of the largest streaming sites, was also taken down.
What's more disturbing is that it was taken down without notice or warning, and 4 workers were arrested, from NEW ZEALAND. And what's worse is that MegaUpload is based in HONG KONG.They claim the shut down and arrests are appropriate because MegaUpload was potentially infringing on copyrights.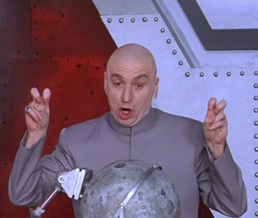 "Allegedly".
So many people are now asking, then what was the point of the SOPA/PIPA protests if the government is able to shut down sites anyways? How SOPA worked was that it would allow large corporations to point their finger at a site and go "Potential copyright infringement" and the site would shut down immediately.
BUT without it they need to go through the courts first. Turns out MegaUpload case has actually been secretly going on for about a year now before they were able to bring the site down and make the arrests. I personally feel that by having the shut down so conveniently scheduled after the protest it's the government's way of saying "We're not done yet".
Also, everyone from Asia is a Martian.
So what can we do now? Big Brother from 1984 is flexing his arms so to speak. The hackivist group known as Anonymous has gone on a Distributed Denial of Service attack (or DDoS for short) and temporarily brought down many of the sites associated with MegaUpload's removal. But that's the keyword, the damage is temporary. What they're doing is like running into someone's room, tearing down a poster, and running away. You can always put the poster back up later.
Unfortunately, no one else has any better ideas. No one expected a response from the government so soon and not such a drastic response either. The government has heard our protest, and they replied "So what? We do what we want.".
This is a problem that affects all of us. I'm currently looking into what an ordinary individual can do and so far I don't have much. Any suggestions or comments would be appreciated because I'd rather not sit and watch this play out.