For those who don't remember, I've been trying to get back into volunteering since my
other option got disbanded
to do bureaucratic reasons. As luck would have it our local Humane Society was having another set of orientation and mentoring sessions so the entire Wei family (as well as our cousins and their Mother, the Liu's) decided to sign up.
A little backstory on this before we start. This isn't our first time we've volunteered with the Humane Society. Several years ago we started, did the old orientation session, did our time and so on.
Back then, things weren't as good. Back then, our city's Humane Society was still using the building that was established
over half a century ago
.
Ok, it wasn't this bad but it wasn't too far off.
It was cramped, crumbling, smelly and not the greatest environment for people let alone animals. The cats were pretty much confined to metal crates almost all the time, stacked on top of each other. There was only one room for the cats to run around in and only 1 cat was allowed at a time.
The dogs weren't much better. Stuck into kennels maybe 1 by 2 meters at most they at least were let out more frequently because they could be walked. You can't really walk a cat. At least, not as well. But the area outside was kind of grungy, there was a highway nearby and I think an oil refinery too? Some kind of industrial complex.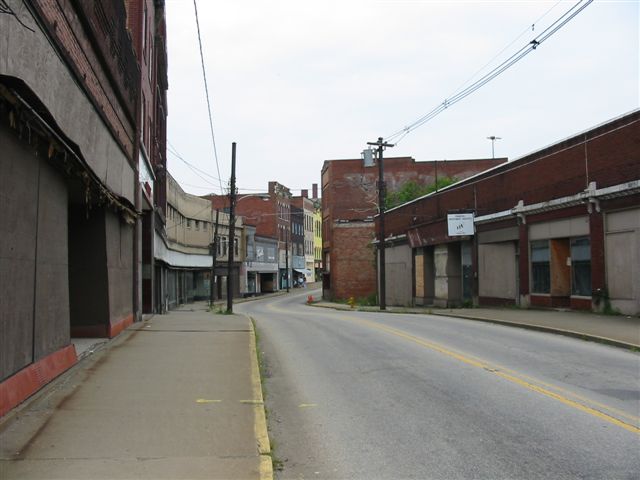 This street is actually way too clean but it's the best example I could find.
Finally, the Humane Society got around to building a brand new facility just for them. The cats now live together in large rooms filled with toys, cat trees and hiding places. The dogs haven't benefited much in terms of living quarters, well, the ground isn't concrete anymore at least but where the facility really shines is the grounds.
A massive fenced field is available for them to run around in as well as a large designated walking path. Gone are the crumbling buildings and streets, they've been replaced by grass, trees and a pond.
Except we live in Canada so in the winter it's replaced by ice and snow.
Unfortunately due to scheduling problems neither the Wei or Liu family were able help out for a number of years but we're finally back. Things have changed though. For example, after the basic orientation you still need to take the individual dog and cat orientations. And after volunteering for a set amount of hours you can be promoted, and for example have access to more of the dogs or spend time with the kittens.
This is a picture I took of one of the calmer dogs. He was pretty nice and I hope he gets adopted soon. Actually, around the time this picture was taken the facility was having fewer than normal animals. We had to leave early simply because all the dogs had been walked already. Also, we still haven't taken the cat orientation yet.
Say hello!
I know Mom wants a dog but unless Dad likes one we'll probably won't be getting any more pets in the future. But we'll see.