Computer issues
are solved temporarily (a.k.a. reduce overheating by turning it on its side) but I think it's best that I take my laptop in for repairs or something after the term. I don't think computers are supposed to shut down due to being too hot.
Nah, I just worry too much.
But lately I haven't been sleeping. No, not just to
sleep apnea
but thanks to school work. Due to technical issues with my research project I've had to redo various things over and over and over. I've probably wasted over 20 hours with just one portion of it. It doesn't help that I suck at Photoshop.
Oh, and there are still other parts of the experiment that I need to get done that have only been further delayed by these problems. The end of the term is coming and I've barely made any progress at all. It's infuriating and I'm wasting my nights redoing things.
KILL ME NOW.
And then we have the endless reading, writing, editing and presenting of papers. I've been staying up all night doing these things as well. I'd like to think that my writing ability improves as I become more sleep-deprived but that's probably the crazy part of my brain doing the talking.
The sad thing is that my body is reaching it's limits. I can't recall the last time I was fully rested and I'm forcing myself to stay up even later. I've been trying to get by with powernaps but even with those I'm still passing out, essays half-written and papers barely skimmed.
I use way too many of these images.
A plus side to staying up all-night? I actually wake up in time for breakfast. Ok, technically I didn't "wake up" but now I'm able to make myself something respectable for a meal. You know, instead of eating nothing like I usually do.
I'm not sure if anyone else notices but toast in diners and restaurants always taste different. It tastes better than using the toaster at home. And for years I couldn't figure out why but apparently what they do is they fry it in a pan instead of using a toaster. And when I tried this for myself at home it tasted just like I ordered it at some place.
Now I refuse to eat toast at home in any other way. Butter in the pan, fry for a minute on both sides, butter the toast, and eat. I don't care that it's way more effort to do it this way, the buttery goodness is worth it.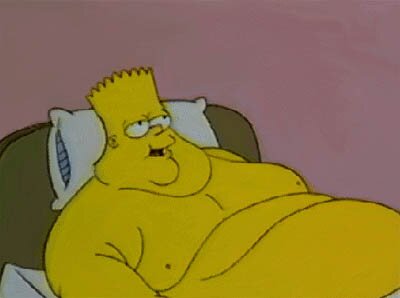 Damian, 10 years from now.
Tonight, I've had enough. I'm going to sleep after this post. And I'm going to try and enjoy it before the next wave of school related crap comes to try and kill me.
Also, this post wasn't written in advance. So I'm hoping that everything I just typed was coherent and grammatically correct.