I'm just warning everyone beforehand that this post is going to be somewhat whiny. I've had my monthly quota of nonsense and I really don't want anymore. So if you don't enjoy hearing blog posts about people venting about their lives, ignore my post and leave a comment below about sea urchins.
Because they're delicious.
But the source of my irritation comes from people. For whatever reason I appear to be the go-to person whenever someone has issues with their life. Maybe it's because I'm getting a degree in Psychology. And you know what? Usually I don't mind.
But a friend of mine has a problem, actually, he has numerous problems. And he's kind of a drama king. Imagine if the Annoying Facebook Girl was Asian and male and bam, you have this guy.
. . . .
See, the thing about him is that it's partially not his fault, so he claims. He probably does have some form of mental or anxiety disorder that causes him to be like this. HOWEVER, this does NOT justify posting your every thought or whine on your Facebook wall. And then texting me how the girl you like doesn't like you and going into detail about your session with your psychologist.
And he exaggerates and/or lies a lot too. So I half the time I'm doubting what he says. One moment he's telling me he's going to run away to Montana, next minute he tells me that the police broke into his house because they thought he was going to commit suicide. Then he's going into detail about how smoking medicinal marijuana is awesome because it helps with his schizophrenia.
Sad thing is, half the above is true and/or happened. I'm not telling which.
But then I had another friend who was depressed and suicidal. And it's not fun, often dealing with both these people simultaneously. It's very draining especially when when one guy clearly just wants attention and the other guy refuses to seek professional help. Usually all I could do was sit, listen and offer my unprofessional opinion on what to do.
After a few weeks, 1 guy is better (I hope), and the other guy is still talking about devices to enlarge his various body parts. Myself, I'm growing apathetic to people's problems.
Ugh...
Oh and to make things better Theresa is refusing to talk to me. I'm receiving her infamous cold shoulder for whatever reason. Normally I would just attribute it to stress and schoolwork but I can still see you being active on Facebook talking to other people. And even when you were really busy you'd still send me a text or instant message. Meanwhile I haven't seen her in a week and she hasn't communicated with me in days. It's clear she's avoiding me.
And you know what, fine, be that way. I'm tired of dealing with people and the apathy is spreading to other parts of my social life. Whenever you're ready to talk with me again I'll be here waiting. I'm not going to you and finding out what the problem is. I've had enough of other people's problems.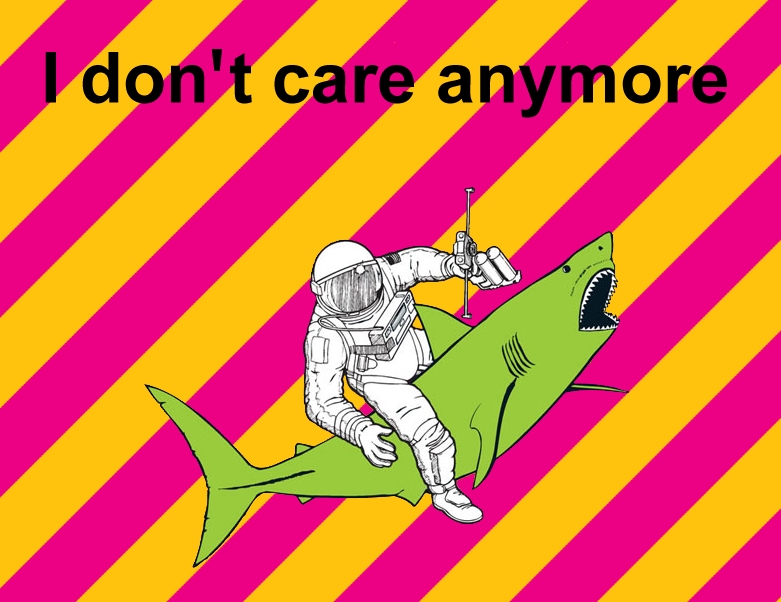 Precisely.
I'll have a post about the
China trip
on Sunday, including answers to a majority of the questions people asked. I just needed a post to vent about personal problems because I really don't have anywhere else to. Normally I'd talk to Theresa but I can't go to someone who currently wants nothing to do with me.