Theresa isn't too fond of cupcakes. Which is unfortunate seeing as there is a cupcake craze going on. But one day we passed by a bake sale on campus and got a red velvet cupcake with cream cheese icing on it. Which she strangely loved. It may have been just due to the cream cheese icing but that's not the point.
There was a type of cupcake she liked, cupcakes are "easy" to bake. I need to learn how to bake this thing. Simple as that.
Unfortunately, I couldn't find
Lizzy's
red velvet cupcake recipe on her blog. Only a red velvet brownie. And after the results of this particular recipe, I think I'll try the brownie one next time instead.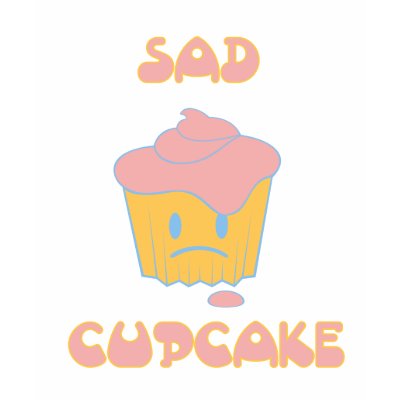 Pretty much.
Now for those unaware, I'm Canadian and I have a preference for the metric system. So when I saw a recipe that offered ingredient amounts in metric I gladly followed it.
Until I realized most of my tools were in imperial.
So that's the first possible reason why my cupcakes didn't turn out so great. Switching from metric to imperial probably caused some discrepancies. And I was making a half recipe so again, more math. Math is bad. I know I'm Asian and I'm supposed to be good at math, but that doesn't mean I have to like it.
I also reduced the recipe down to 12 cupcakes, so if I failed, there would be less failure. So imagine my surprise when I poured the batter and got this:
Something seems wrong here...
In case you can't count, that's enough batter for 9 cupcakes apparently. Not, 12 like I had planned for. So, not only was I unable to do conversions properly, I didn't even make enough batter for the converted recipe.
So I dump the cupcakes into the oven. Think nothing of it. Start working on the cream cheese icing.
And then oven starts smoking.
This is probably bad.
Fortunately, it wasn't my cupcakes that were burning. No, someone else had cooked something in the oven recently and it had got all over the place. Said person also didn't clean the over afterwards so now it was being burnt into the sides and bottom of the oven.
I'm also fairly certain the smoke wasn't doing much for the flavor of my cupcakes.
In the meantime, I continued trying to make the icing. Who remembers my
curry brownies
should remember the icing I made. Watery, kind of gross looking and not that tasty.
My cream cheese icing was exactly like that EXCEPT replace watery with gritty. I think I'm improving. Well, not to the point of actually using it on my cupcakes. Not that the cupcakes were amazing either.
If you ask me, it looks the same as the first picture.
They didn't taste that great, they weren't that red and the icing was going into the garbage. I later realized that using salted butter for icing is probably not a good idea. And you know what? Maybe it was a good idea that I didn't have enough batter for 12 cupcakes. Considering how good these 9 were.
I'm also going to assume the recipe I used wasn't that great. If anyone can directly link me to a good one, that be great.
Theresa is not going to see these failures in person. Hopefully the next batch turns out better.
BONUS PICTURE: DELICIOUS ICING