Most urban legends and mythical creatures are products of older civilizations and eras. It's difficult to replicate the sort of mystery, wonder and sometimes fear that is associated with things like the Loch Ness Monster, Big Foot, Jack the Ripper and similar entities.
But if there is any modern urban legend that is thriving it would be the creature known as the Slenderman.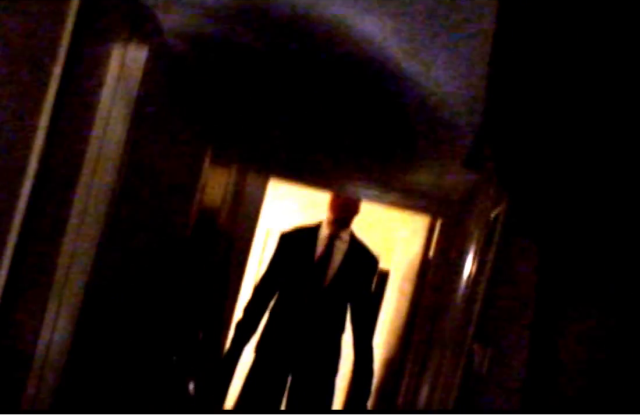 The Slenderman is depicted as a tall, skinny, and faceless entity in a suit and tie, often with disproportionate limbs and fingers. He or it, is usually seen in the edges of photographs with the photographs ranging anywhere from the 1900's to modern times. It is common for the Slenderman to be seen in areas where children frequent. And it is not uncommon for children sharing a photo with the Slenderman to be declared missing.
No one knows why the Slenderman stalks and abducts children. Or what happens to those who go missing. Upon seeing the Slenderman, some individuals claim to suffer from, but not limited to, nausea, blurred vision, and headaches. But reports will vary from individual to individual.
Can you spot the Slenderman?
So popular is the Slenderman that he has become the choice topic of numerous short stories, "documentaries", and even games, the most well known being
Slender
. You play as a young woman lost in the woods as you try and find pages of a notebook whilst being stalked by the Slenderman.
The game has gotten so much attention that an updated and improved version will likely be released on Steam in the near future. I intend on doing a review, but make due with the trailer for the meantime.
Now there's a reason why I'm suddenly discussing the Slenderman, and it's simple. It's been years since I've dressed up for Halloween and going as the Slenderman is easy. I'm tall, thin, and I don't mind standing around looking creepy. All I need to do is get my old suit adjusted for my weight loss over the years, and away we go.
Though, I'm going to have to get used to wearing contacts because no glasses allowed. And I'm also unsure of what to wear so my head is completely white. I'm tempted to just get a nylon something to shove over my face but I doubt that be effective, or comfortable.
Any suggestions would be great.