Quick note before I start today's post. I haven't been reported (yet) but there was a reader who was offended by any use of profanity. She/he also claimed that the Google bots would eventually crack down on me. I argued with him/her for about half a week and the messages began to have the tone of "change it or I'm reporting you". I was getting sick of talking with them so I just gave in and complied.
Anyways, today's post is about a problem my household has been having for a number of years and that is mice seem to keep finding a way in. Our home is not an old or rundown house by any means, it was build the year I was born and my family is OCD when it comes to cleanliness. But that doesn't stop the mice from coming in and inhabiting the basement. Maybe there's a hole in the garage that allows them in but we haven't found it despite doing a complete clean up.
Dad insists on catching them alive and releasing them in a field several kilometers away so we doubt it's the same mouse over and over. I think he purposely made sure that a grocery store was nearby in hopes that they would run there and infest them instead of potentially coming back to us.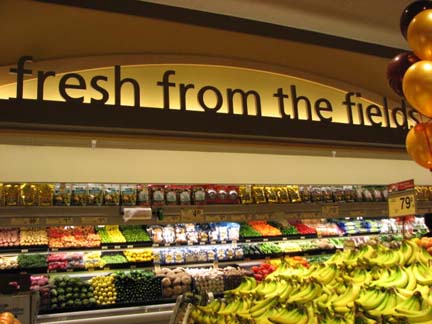 Oh Safeway, what won't you have next.
Like most people my age I live in the basement but the storage room is far from my bedroom so I wasn't afraid of a rodent scurrying in and hiding in my closet. That changed a few weeks ago when I was brushing my teeth and noticed mouse dropping all around my sink. I got rid of it and a few days later, more droppings. This continued for about 2 weeks and it started to really bother me.
Now, we caught and released a mouse a long time ago and even if there was one around there was no way or reason for it run around and poop on my sink repeatedly. I mean, if it liked eating toothpaste I guess but I don't know many creatures that enjoy doing that.
Or maybe they're just jerks.
Dad came to the conclusion that maybe the droppings were falling from the ceiling. So we removed a panel to take a look.
And there were mouse droppings.
Everywhere.
Just, everywhere.
We vacuumed them up but then I realized something. The mice probably had a way to travel across every part of the ceiling. And if so, they probably have been on the ceiling panels in my bedroom. I may have been sleeping with poop above my head for months.
Unlike this guy, I actually mind.
But I don't think there's anything I can really do about that. I don't want to risk tons of mouse crap falling all over my bed and beloved computer. I think I'll just pretend like they don't exist, and the problem will go away once I move out.
Yeah, that's a good plan. Absolutely brilliant.