I return for the final term of my Psychology degree in the fall. Then I can finally get a piece of paper and be about 10 grand in debt. Lots of fun to be had. Especially considering I still have no idea what I want to do once I've gotten said degree.
I registered for my courses way back in June before I left for vacation to China. So, imagine my surprise when I returned home and found out that I had been kicked out of all of my courses.
And my program.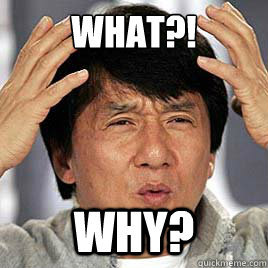 Pretty much my expression.
And a few phone calls later, I finally get my answer and the problem.
Anyone who has followed my blog for a few months will remember the problem I had last year. What happened was I didn't have enough courses to stay within my Psychology program. To solve this, several coordinators managed to shove me into 2 courses
halfway through the term
.
Why did I not have enough courses? Well, I was over the course limit for an Internship program I was trying to get into again. So I reduced my course load to try and get in. But as some of you may know,
I didn't get in
, and only put my degree at risk.
The reasoning was that if the person in charge let someone into the program that was over the course limit, it challenged the integrity of the program. Some nonsense like that.
Unrelated note, it's also sort of due to that same person that 1/5th of us didn't get an internship the first time around because she took more students than internships.
I imagine I've confused a lot of you right now.
Anyways, it turns out when they were adding my two extra courses, one of them never actually got added. In other words, I was doing all the work for a course I wasn't even registered in. And without that course, I didn't qualify for my program. They kicked me out and that was that.
Good thing I caught it in time. More phone calls later and things are all good. But seriously, it's ridiculous how many problems have been caused all because I wasn't able to get into that Internship program back in 2010.
Enough is enough.
But there is a silver lining to all of this. Due to me having to recreate my schedule, I now now have a 5 day weekend. That's right, a combination of late afternoon/evening courses on Tuesday, Wednesday and Thursday gives me a very nice schedule.
And I prefer to be able to sleep in, take courses at night. Everything worked out in my favor. So there's that.
The building that Theresa will be taking classes in has a kitchen. Maybe I can drop down one day and cook her lunch.
Or burn the building down.