I've lived in the basement ever since the router moved there. My old room barely had any WiFi strength for my laptop and that was unacceptable to me. And I like it down there. It's always cold even in the middle of the summer, I have my own bathroom around the corner, and I can move around better at night and am less likely to wake others up.
My only fear is that one day I'll become "that guy" in his parent's basement forever.
Kill me before this happens please.
That being said, I do miss the sound of rain on the roof. I don't see sunrises or sunsets anymore. But the biggest problem I have with living in the basement, is the bugs. No matter how hard you seal up every crack or gap in your home, insects and other creatures will find a way into your basement whether you like it, or not.
I generally don't mind them. They tend to congregate in the bathroom. It's not uncommon for me brush my teeth and watch a spider crawl down beside the mirror. Or watch as a couple woodlice scurry around outside of the shower. I've given up catching and releasing them outside, they'll probably just find a new way back in.
And they aren't that gross, could be worse.
However, it's when these things arrive unexpectedly that really bother me. Somehow, things keep crawling through the vents and into my bedroom. I have a duct directly over my desk and I've had woodlice suddenly drop down into my lap.
Once a moth popped out and started flying around me room until I finally caught it in a cup. It died throughout the night though which kind of surprised me. I thought that the thing could have waited a few hours for morning to come.
That's still not as bad as waking up in the morning, groping in the darkness for your alarm clock only to grab a woodlouse-like object on your pillow instead. Yes there is a vent over my bed. I haven't liked it since. And yes, I did somewhat panic in my groggy state and threw it somewhere.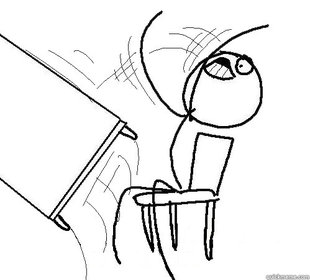 Replace the table with a bug and that was pretty much me.
But the worst case I've encountered was one day discovering a dead spider in the corner of my bathroom. Being the lazy person I am. I leave it. I mean, who wants to go around touching dead spiders? They don't really bother me but who has "Clean dead spider off bathroom floor" on their to-do list.
A few days later I find a fairly large centipede eating said dead spider.
Centipedes scare me. I wouldn't even touch that thing. I wanted nothing to do with it. I actually had to have someone come into my bathroom, and get rid of that centipede for me. That's how much I hate them.
I'm not even going to go look for a picture of a centipede.
I eventually get around to cleaning the dead spider remains and it was like mush. Was it decomposing? Had the centipede injected something into the spider corpse to make it easier to digest? Are all spider corpses this mushy?
I don't know. But lately, I've been reconsidering moving back into my old room upstairs.